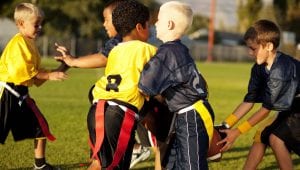 2022 Key Dates | 2022 Flag Football Jamboree Schedule
BAA Flag Football Program Overview
The Bloomington Athletic Association delivers fun, affordable, and safe youth sports experiences, fueled by our passionate volunteers. In flag football, the players will learn about Body Mechanics and the basic plays in football. The players are proven to have a better understanding of the game of football when they start in the flag football programs. There is less fear from kids and the kids really get to know and love the game of football. With fewer restrictions due to the full football gear the kids can they can focus more on learning how to play the game and they are able to see what is going on around them during the game, therefore learning more about football. Staring with flag football helps strengthen the foundational skills of football building players with a better understanding of the game when they transition to the football program.
---
Volunteers
For our flag football program, volunteers are needed as coaches, assistant coaches, scorekeepers and officiating. Register as a coach online today!
COACHING: BAA needs coaches! If you are a new coach or need help, BAA Flag Football has resources to ensure you are comfortable leading your team. Practice plans and strategies will be provided. Coaching youth sports is an excellent way to give back to your community, build your network, and strengthen your leadership skills. Coaching applications are due in late June. Coaches clinics mid-July.  
---
Program Details
Age Group
Children entering kindergarten through 4th grade in the fall after registration.
We will create levels by grade based on registration numbers.
Experience
The fundamentals of lining up in a proper stance, learning ball skills. General rules of flag football.
Game Fundamentals
The object of BAA Flag Football is to teach football and good sportsmanship. Should the situation arise that a score is lop-sided or a team is ahead by more than three touchdowns, the winning coach SHOULD make every effort to not continue scoring. Efforts may include low yardage plays, giving everyone that is eligible a chance to carry the ball and pull out key players.
Where
Westwood is the primary field.
Season Dates
August 21 to October 16 - 8 weeks, no session during Labor Day Weekend
Days of the Week & Times
Saturday mornings 10:00 am and Monday evenings 6:00 pm.
Games are 4 (10) minute quarters with a 5-minute halftime break.
Equipment
BAA provides: Jersey, flag-belt, footballs (limited numbers), and other necessary items for the game setup.
Players need to provide: mouthguard and a water bottle. Tie shoes must be worn.
Optional Player items: Molded plastic cleats are allowed, but not required.
Registration | Fees
$85.00 (scholarships available for those needing assistance)
---
Flag Football Contacts