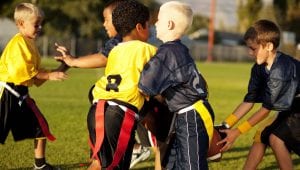 2020 Key Dates
Activity
Flag Date(s)
Registrations Close
8/10 (Monday)
Jerseys Hand-out and Picture Day
8/22 (Saturday)
Practice Begins

(Practice is on Mondays and Saturdays. First practice is 60 minutes)
8/24 (Monday)

Payment 1 due/charged
Regular Season - 8 weeks

(Practices/Games are on Mondays and Saturdays. First 30 minutes is Practice, last 60 minutes is a Game)
8/29 First Practice/Game

9/5, 9/7 no Practices/Games

9/21 - Payment 2 due/charged
Season End and Medals
10/10 (Saturday)
BAA Flag Football Program Overview
The Bloomington Athletic Association delivers fun, affordable, and safe youth sports experiences, fueled by our passionate volunteers. In flag football, the players will learn about Body Mechanics and the basic plays in football. The players are proven to have a better understanding of the game of football when they start in the flag football programs. There is less fear from kids and the kids really get to know and love the game of football. With fewer restrictions due to the full football gear the kids can they can focus more on learning how to play the game and they are able to see what is going on around them during the game, therefore learning more about football. Staring with flag football helps strengthen the foundational skills of football building players with a better understanding of the game when they transition to the football program.
LEVEL SUMMARY:
Kindergarten – 4th graders grouped by ages based on registration numbers. Ideally, we like to keep each level by grade, but it may be combined with another grade.
WHEN:
Flag Football has a season runs August through October with sign-ups in June. All practices and games will be on Saturday mornings and Monday evenings. The general start times will be 9 – 10:30 am Saturday mornings and 6 – 7:30 pm on Monday evenings.
WHERE:
The games are played in Bloomington primarily at Westwood Elementary.
COACHING:
This is also an introductory program for parents who would like to coach football. What a great way to spend time with your son or daughter and learn how to be an effective coach. We will be utilizing a lot of collaborative coaching concepts so the coaches will not be thrown out there on their own. So, if you have a desire to coach, please sign up, this is the place to start!
EQUIPMENT:
BAA provides all equipment except for cleats (optional) and a water bottle.
SIGN-UP:
In-Person and Online sign-ups in June. Fee $75. Add $25 for each late registration beginning July 25, 2020.  Register here today: http://assn.la/Reg/?r=3:200954
Payment 1 of $40 will be due/charged on 8/24

Payment 2 of $35 will be due/charged on 9/21
Note:  No refunds will be provided for payments made. If you wish to make a payment by cash or check please contact Glenn Riemersma at baatreasurer1@gmail.com to arrange payment details.
BAA Flag Football Contacts

Flag Football Commissioner
OPEN
Equipment Director
Karl Johnson
kweather06@yahoo.com
952.486.2790
Volunteer Coordinator
OPEN
Administration 
Stephanie Nicholson
admin@baaonline.org
952.373.1563