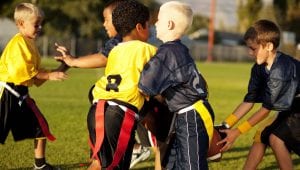 2019 Flag Football Program Information.
We try to keep consistency from year to year with the program, but some program changes may be made in 2020.  In 2020 we will be adding 5th and 6th-grade flag football teams.
WHO:
Kindergarten – 4th graders
WHAT: 
Flag Football is an introductory program for kids that enjoy being active and want to learn the fundamentals of playing football. This beginning program will be high energy and the kids will start to learn and love the game of football while having fun.
WHEN:
Flag Football has a season runs August through October with sign-ups in June. All practices and games will be on Saturday mornings and Monday evenings. The general start times will be 9 am Saturday mornings and 6 pm on Monday evenings.
WHERE:
The games are played in Bloomington primarily at Westwood Elementary.
In flag football, the players will learn about Body Mechanics and the basic plays in football. The players are proven to have a better understanding of the game of football when they start in the flag football programs. There is less fear from kids and the kids really get to know and love the game of football. With fewer restrictions due to the full football gear the kids can they can focus more on learning how to play the game and they are able to see what is going on around them during the game, therefore learning more about football. Staring with flag football helps strengthen the foundational skills of football building players with a better understanding of the game when they transition to the football program.
COACHING:
This is also an introductory program for parents who would like to coach football. What a great way to spend time with your son or daughter and learn how to be an effective coach. We will be utilizing a lot of collaborative coaching concepts so the coaches will not be thrown out there on their own. So, if you have a desire to coach, please sign up, this is the place to start!
EQUIPMENT:
BAA provides all equipment except for cleats (optional) and a water bottle.
SIGN-UP:
In-Person and Online sign-ups in June. Fee $75. Add $25 for each late registration.
BAA Flag Football Contacts

Flag Football Commissioner
OPEN
Equipment Director
Karl Johnson
kweather06@yahoo.com
952.486.2790
Volunteer Coordinator
OPEN
Administration 
Stephanie Nicholson
baaonline1954@gmail.com
952.373.1563