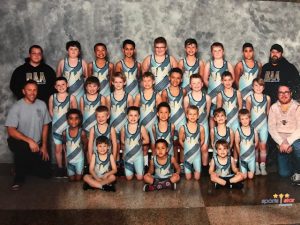 BAA Wrestling Program Overview
The Bloomington Athletic Association delivers fun, affordable, and safe youth sports experiences fueled by our passionate volunteers. Our Wrestling program provides kids from preschool to 8th grade the opportunity to develop sportsmanship, teamwork, and strengthening motor skills, all while having fun in a family-friendly and competitive atmosphere.
---
Volunteers
For our Wrestling program, volunteers are needed as coaches, assistant coaches, and other volunteers. If you are interested in volunteering, please contact us at wrestling@baaonline.org. 
COACHING: As always, we are completely dependent on you as parents to help make this sport the best possible by volunteering your time as a head coach, assistant coach, or other volunteer roles. What better way to be involved with your children than to be a part of their team during the season? Without you, we cannot run this program!
Thank you for considering how you might be able to support our team and season!
---
BAA Tournaments
BAA Wrestling plans to host a Bloomington tournament at the end of January, dates to be determined.  BAA Wrestling also participates in a variety of local tournaments as a team.  We encourage all wrestlers to consider participating in these tournaments and the team and any other tournaments that the wrestler would like to as an individual wrestler.  BAA Wrestling will assist families in finding tournaments and sharing information regarding possible tournaments throughout the season.  
---
Program Details
Pre-K to 2nd Grade
Age Group
Children in pre-Kinder through 2nd grade.
Experience
This level of BAA Wrestling involves learning basic wrestling skills and ends with a tournament hosted in by Kennedy Wrestling in mid-January.
Practices consist of working on fundamentals, technique, and cardio. This year we are looking to change the format of the practice with one Instructor (coach) leading the practice each session and several small groups that will be breaking off from the large group to practice skills with their adult group leader (assistant coach).
Wrestling will challenge your kids both physically and mentally. Join us in supporting personal growth and physical activity in this wrestling season.
Game Fundamentals
The fundamentals in our program include sportsmanship skills, mental and physical strength, building self-confidence, great exercise, and lasting community connections.
Where
Practices are at the Kennedy Wrestling room and the tournament for this level will be at Kennedy High School in January, the date is TBD.
Season Dates
late November - late January
Days & Times
Tuesday & Thursday from 6:00 PM - 6:30 PM

Equipment
BAA Wrestling will provide:
* A team singlet for wrestlers to use during tournaments.
*A BAA Shirt for wrestlers to wear at meets, practices, and school to show their wrestling pride!

Parents to provide/know:
*Headgear is highly encouraged.
*No one will be allowed to wrestle with pins, buttons, zippers, pockets, loops, belts, or snaps.
*No jewelry of any kind nor gum is allowed.
*Fingernails must be kept short and trimmed of sharp edges. Fingernails will be checked at meets and practices.
*Wrestling or tennis shoes are to be worn in practice and meets at all times. No one will be allowed to wrestle in socks or with bare feet. If you do not have wrestling shoes, you may wear regular gym shoes. You need to make sure the bottoms are clean, and hand carry them in and put them on when you get into the wrestling room. Do not wear your street shoes into the wrestling room at any time. We need to keep the mats clean and dry.
*Mouthguards are permitted with the parents assuming all responsibilities.
Registration | Fees
$100.00
Grades 3 – 8
Age Group
Children in grades 3 - 8.
Experience
BAA Wrestling includes two weeknight practices and four-weekend tournaments that are attended as a team (need to provide your own transportation). Practices consist of working on fundamentals, technique, and cardio. Wrestling will challenge your kids both physically and mentally. Join us in supporting personal growth and physical activity in this wrestling season.
Game Fundamentals
The fundamentals in our program include sportsmanship skills, mental and physical strength, building self-confidence, great exercise, and lasting community connections.
Where
Practices are at the Kennedy Wrestling room and tournaments in the twin cities metro area.
Season Dates
November - March
Days & Times
Tuesday & Thursday from 6:30 PM - 8:15 PM and three-weekend meets (TBD) plus the Kennedy Home Meet.
Grades 3 - 8 program runs from 6:30 PM - 8:00 PM T & Th.
There may be different time slots for different age groups based on age, older kids will run a later timeslot depending on participation numbers.
Practices will run between an hour to an hour and a half.
Equipment
BAA Wrestling will provide:
* A team singlet for wrestlers to use during tournaments.
*A BAA Shirt for wrestlers to wear at meets, practices, and school to show their wrestling pride!

Parents to provide/know:
*Headgear is highly encouraged.
*No one will be allowed to wrestle with pins, buttons, zippers, pockets, loops, belts, or snaps.
*No jewelry of any kind nor gum is allowed.
*Fingernails must be kept short and trimmed of sharp edges. Fingernails will be checked at meets and practices.
*Wrestling or tennis shoes are to be worn in practice and meets at all times. No one will be allowed to wrestle in socks or with bare feet. If you do not have wrestling shoes, you may wear regular gym shoes. You need to make sure the bottoms are clean, and hand carry them in and put them on when you get into the wrestling room. Do not wear your street shoes into the wrestling room at any time. We need to keep the mats clean and dry.
*Mouthguards are permitted with the parents assuming all responsibilities.

Registration | Fees
$110.00
---
CONTACTS:
Wrestling Information | Dicks Sporting Goods Coupons