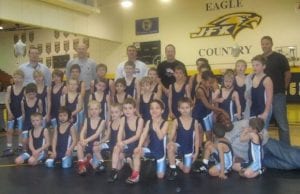 WHO: Youth Pre-K to 8th Grade
WHAT: Practices consist of working on fundamentals, technique, and cardio. Wrestling will challenge your kids both physically and mentally. Join us in supporting personal growth and physical activity in this wrestling season.
WHEN: November – March.  Practices are held on Tuesday & Thursday's from 6 – 7:30 pm.  There are typically a couple of Saturday meets, but most are scheduled during the Tuesday | Thursday practice times.  The official schedule is created in December at the Minneapolis Park Board meeting.
WHERE: Practices are in the Wrestling Room at Kennedy High School. Tournaments in January at Kennedy High School.
WHY: What benefits will your kids get from BAA Wrestling?
Sportsmanship skills
Mental, and physical strength
Build self-confidence
Great exercise
Lasting community connections
COACHING: As always we are completely dependent on you as parents to help make this sport the best it can be by volunteering your time as a head coach, assistant coach, refereeing, scorekeeper or timekeeper. What better way to be involved with your children than to be a part of their team during the season. Without you, we cannot run this program!
EQUIPMENT: Each boy must provide his own wrestling or tennis shoes. BAA will provide a singlet. BAA provides scoreboards and time clock and referees shirt and whistle.
All wrestlers will wear their BAA singlet for tournament nights only. DO NOT WEAR YOUR BAA-ISSUED SINGLET TO PRACTICE. Wrestlers are to wear plain gym shorts, t-shirts, and wrestling shoes.
No one will be allowed to wrestle with pins, buttons, zippers, pockets, loops, belts, or snaps.
No jewelry of any kind, nor gum is allowed.
Fingernails must be kept short and trimmed of sharp edges. This will be checked at meets and practices
Wrestling or tennis shoes are to be worn in practice and in meets at all times. No one will be allowed to wrestle in socks or with bare feet. If you do not have wrestling shoes, you may wear regular gym shoes. You need to make sure the bottoms are clean and hand carry them in and put them on when you get into the wrestling room. Do not wear your street shoes into the wrestling room at any time. We need to keep the mats clean and dry.
Mouthguards are permitted with the parents assuming all responsibilities.
REGISTRATION/ FEES: $97.00
CONTACTS:

BAA Wrestling Contacts

Wrestling Commissioner
Cory Beaty
baawrestlingclub@gmail.com
952.356.9706
Assistant Wrestling Commissioner
Matt Workcuff
matthewworkcuff@gmail.com
612.360.3443
Administation 
Stephanie Nicholson
admin@baaonline.org
952.373.1563
Wrestling Information | Dicks Sporting Goods Coupons
https://calendar.google.com/calendar/embed?src=baawrestlingclub%40gmail.com&ctz=America%2FChicago